Although at the beginning of the 21st century, many businesses had started to focus on data, the COVID–19 pandemic has forced organizations to develop and adapt to a must–have data-driven culture at all levels. Data was once a business byproduct for many organizations. Now, data itself is a key driver for decision making in most businesses. Increasingly, many future business decisions will rely on data insights the company gets from its internal and external sources.
When the pandemic hit, world economies and organizations went into panic mode because there was so much uncertainty around future events and their impacts. As a result, businesses are now investing more time and resources, not just to research and recognize the value of applying analytics in various functional areas, but also to actively implement and improve it. Healthcare Payers are no exceptions to this. 
In the journey of defining and establishing an Analytics Culture, organizations have to overcome several hurdles, both technological and cultural. Below is a road map that organizations can utilize to gauge their performance and the next steps. Each step is crucial to the success of the next milestone.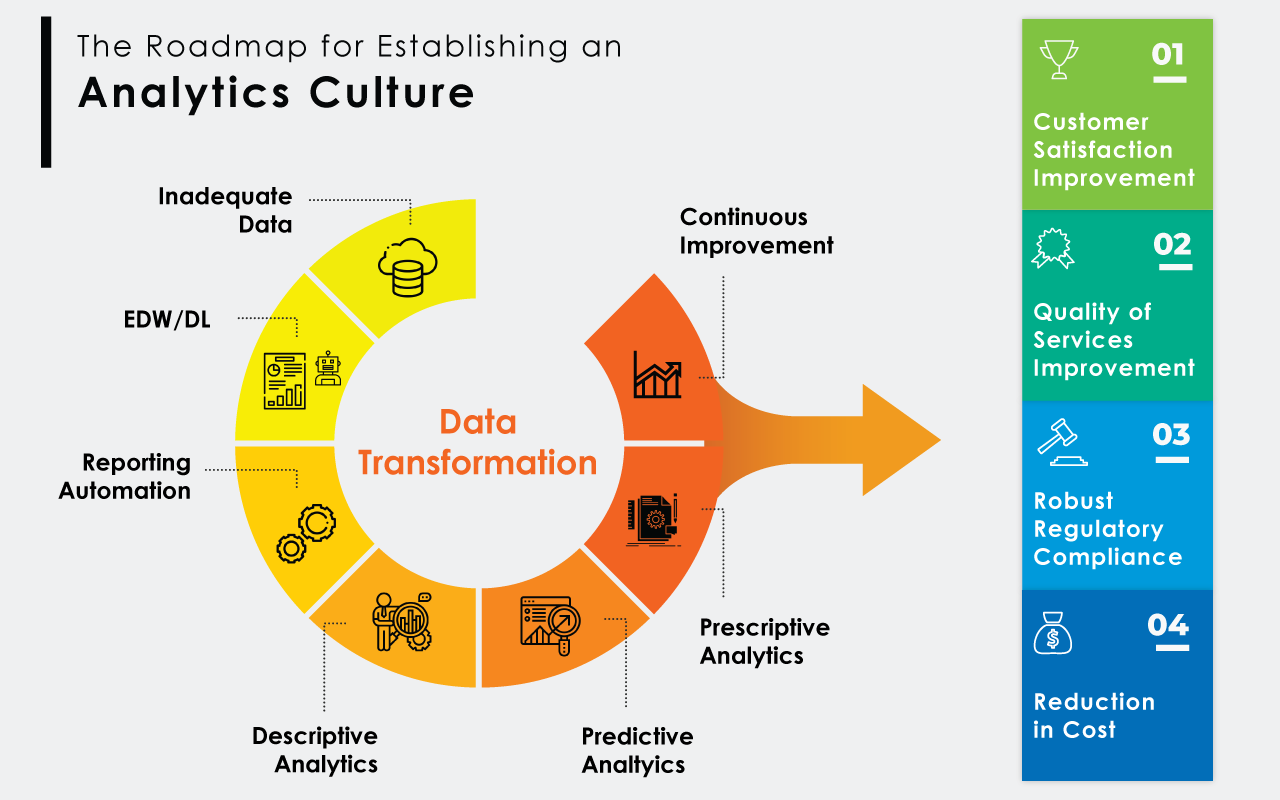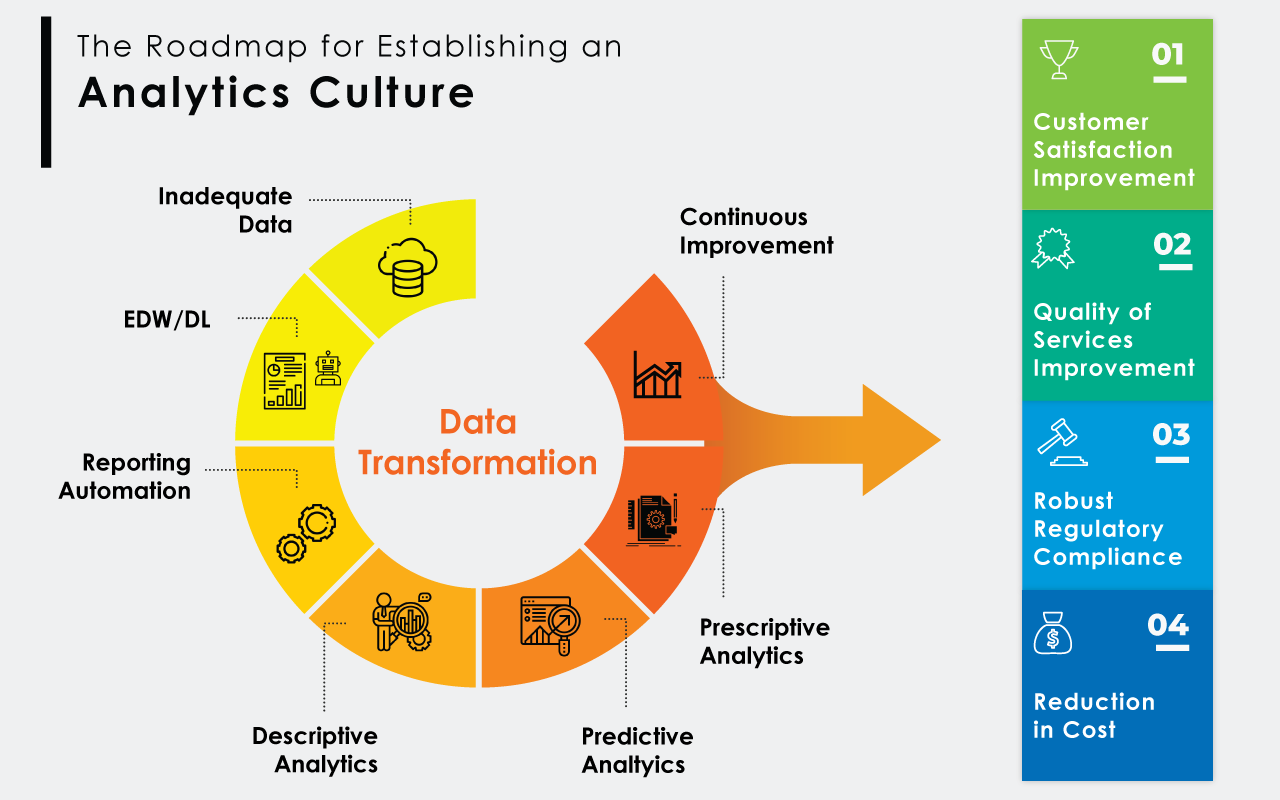 Inadequate

 Data
The earliest dataset(s) collected by businesses could be inaccurate or inadequate. It can be a daunting task for many organizations to keep quality control checks in place on these dataset(s) for inaccurate/missing pieces. Inaccurate data can lead to a very different perspective as compared to reality.  So, it is vital to have a streamlined process to minimize the possibilities of having undesired data quality in the first place. 
Want data-Driven decision making for improved patient care?
Enterprise Data 

Warehouse (EDW)

/Data 

Lake (DL)

 
When all data systems achieve an acceptable level of quality and governance, the next step in the road map is to integrate and combine multiple datasets to create one source of truth. Usually, every silo system in any organization contribute their datasets into the EDW/DL. Once datasets reside at one place, a holistic picture of any business Entity can be extracted easily. Contrary to Enterprise Data Warehouses, Data Lakes provide the functionality to store raw/unstructured data, where the purpose of storing the data itself is not defined yet.    
Reporting

 Automation
Once you have a baseline dataset in EDW/DL, based on business needs, automation of reporting can be quickly achieved. However, initially reporting may leave very little to no opportunity for end-users to modify reports to extract new insights. In mature environments, users will have more freedom to choose the parameters, business rules, required calculations, etc. for desired results. Advanced reporting tools like Tableau, Power BI, QlikView, etc. provide these functionalities to the user based on the user inputs. 
Descriptive Analytics
Historical data can help you better understand changes that have occurred in business with Descriptive Analytics. Descriptive analytics describes using a range of historical data to draw comparisons in various dimensions of any business entity. As business needs change rapidly in 21th century, the requirement and use cases in Descriptive Analytics change too. So it is vital to adopt technologies and tools driven by Descriptive Analytics to adapt to changes in the healthcare payer technology landscape. 
Predictive Analytics
Once you have streamlined the process to better understand the current scenarios, with the help of Descriptive Analytics, you may want to look into the future. Predictive Analytics can be a very powerful tool based on a Use Case / Measure and Data definition that fuel the algorithms. The next step will be to incorporate forecasts about the future into the standard data reporting. This integration will guide the organization's proactive efforts to cut costs and make necessary changes in multiple areas/business processes. Users can also make decisions to minimize the negative impacts or increase the positive effects, identified by Predictive Analytics. 
Prescriptive Analytics 
Prescriptive Analytics can lead to recommendations or assistance to take new actions based on historical activities to decrease human dependence and manual errors. Even though the actions have been suggested here, the final decision would be made by humans. As the maturity of Analytics Culture increases internally, organizations would benefit not only from recommendations or assistance in actions but embedding those actions into the processes. As humans finally make the decision, the next set of actions would be triggered automatically based on the decision.   
Continuous Improvement 
The landscape of businesses is rapidly changing. To keep up with ever changing business scenarios, analytics also needs to keep evolving for new or updated business use cases. For new or updated business use cases, you may need to start from scratch to ensure that your business is capturing the required data. After that, a new dataset may need to be integrated into EDW/DL to connect with other business entities. Once this is done, the required analytics can be performed to fulfill the business use case and incorporate feedback. So, you will have to continuously improve data collection methods, datasets, analytics techniques/tools, products, etc. to maximize analytics' potential. 
Learn more about how we can empower your organizational journey with the power of data analytics. Drop us a line at info@nalashaa.com to reach out healthcare IT experts. 
The following two tabs change content below.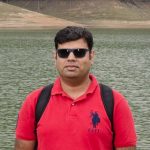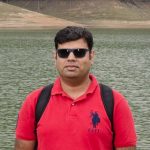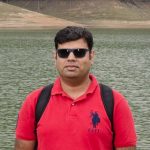 Pankaj Kundu
Pankaj has vast experience ranging from claims processing engine to application of machine learning algorithms in US Healthcare. As a Healthcare Business Analyst, he is passionate about addressing healthcare data/process related challenges and ideating solutions for clients.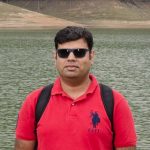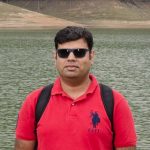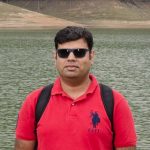 Latest posts by Pankaj Kundu (see all)