The healthcare industry has witnessed rapid digitalization in these recent years. But most of these changes have been targeted to solve a specific problem in the network. This has resulted in digitalization but has also created disconnected provider networks.
Challenges that's been crippling the industry 
Staffing shortages: There is a staff shortage in the US healthcare industry. This has been a problem for years, and it is only getting worse. Hospitals and clinics are struggling to find enough nurses, doctors, and other healthcare professionals. The problem is especially acute in rural areas and states that have not expanded Medicaid. The shortage of staff has led to long wait times and rationing of care. The situation is likely to get worse in the years ahead, as the population continues to age and the demand for healthcare services increases.
Disconnected information transfer: The healthcare industry has been struggling to transition from a paper-based system to a digital system for many years. This is partly due to the fact that information is still disconnected in the healthcare industry. There are many different systems used by different parts of the healthcare industry, and these systems are not always compatible with each other. This makes it difficult for doctors, nurses, and other healthcare professionals to share information with each other. It also makes it difficult for patients to access their medical records.  The healthcare industry is lagging behind other industries when it comes to technology. This lack of integrated data often leads to data duplication and inconsistency.
Lack of understanding: The healthcare industry is a heavily regulated industry. Healthcare providers must comply with a number of regulations from the government, including the Health Insurance Portability and Accountability Act (HIPAA). These regulations can be difficult to navigate and can lead to confusion. Inadequate understanding of regulations leads to inefficient workflows.
 The providers are now moving from just a digital hospital to a smart one. One with different layers of technology at each stage, co-working together for better operations.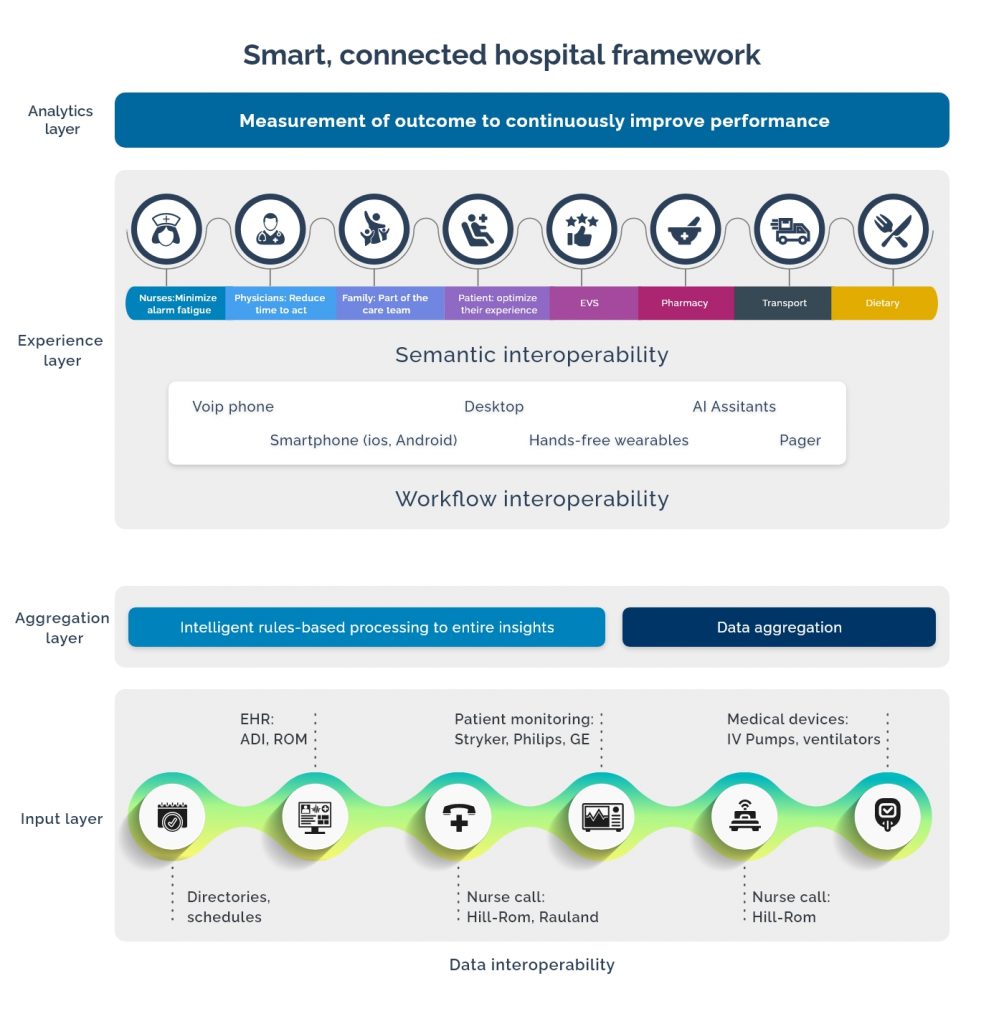 Layers of a Smart and Connected Hospital that will Eliminate the Challenges 
Input layer: The input layer enables data exchange across healthcare IT platforms like the electronic health record, patient monitoring technology, smart beds, and medical devices. The basis for connection is laid through data interoperability. It allows a clinician to carry out a treatment plan along a continuous care pathway and greatly minimizes the amount of human work necessary to interpret output from several, siloed systems. For instance, a doctor can more quickly comprehend that a patient's newly developed atrial fibrillation is caused by an abnormally low potassium level when data from a hospital's lab information system are combined with cardiac monitoring.
Aggregation layer and intelligent processing layer: There is a huge demand for doctors to get precise, actionable information so they can improve patient safety and lessen the cognitive load and alarm fatigue. Routing, escalation, and prioritizing of communications and alarm warnings at scale are made possible by intelligent middleware, which also presents the information with context about the patient, the event, and the care team. The input layer's data interoperability is expanded upon in this layer. For instance, the Vocera® Engage intelligent workflow engine employs HL7 standards to dismantle data silos and get data ready for analysis.
Experience layer: People receive information that has been intelligently processed and aggregated from various systems in the experience layer. Avoiding the creation of isolated information repositories and siloed contexts is an objective of workflow interoperability. To do this, clinical and IT leaders must have a thorough grasp of the sites of intersection between doctor, nurse, and cross-team workflows, especially during care transitions. As an illustration, the majority of hospitals demand that a doctor inform a nurse directly whenever a new stat medication order is filed. This is the meeting point between a nurse's medication administration process and a doctor's workflow for ordering medications. By immediately alerting the nurse when the stat order has been placed, an intelligent clinical communication and collaboration platform lessens the strain of communication for both parties.
Analytics layer: Analytics assist IT executives in assessing the value of their investments in digital technology by measuring clinical and economic outcomes. Building a smart institution requires constant process improvement, which is its foundation.
Conclusion
In this ever-evolving world of technology, it is pivotal to have a system in place which allows for faster upgrades and modernization. A smart hospital network can not only help you today but can also accommodate tomorrow's upgrade with ease.
Nalashaa can provide you with all the tools necessary for this change. We have been a trusted solutions partner for providers all over the US. Connect with us to get world-class healthcare provider solutions customized according to your needs. For more information, email us at Info@nalashaa.com.
The following two tabs change content below.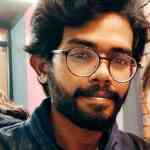 Mitrajit Das
A writer with a keen interest in the Healthcare domain and B2B content marketing. He enjoys writing and creating pieces around the latest Healthcare IT trends using the simplest of words.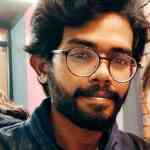 Latest posts by Mitrajit Das (see all)