From member enrollment, eligibility checks, and provider network management to billing and collection, healthcare payers are involved in handling and reporting sensitive healthcare data. The healthcare payer process is drawn out and cumbersome, with human errors resulting in penalties and loss of revenue, and must be automated at all costs. Besides the obvious benefits of report automation, it provides an excellent opportunity for all external stakeholders to view and analyze data efficiently in a customized manner.  


Payer Challenges 

in Absence of Report Automation

 
Traditionally, payers were all about generating reports on an ad-hoc basis. A dedicated team would produce reports based on requests from the senior management.   
Payers face unavoidable roadblocks with manual reporting, such as:   
Cost Inefficiency   
Payers deal wi

th copious amounts of data

. 

I

ncorrect data

 

ad

d

 

a fair

 margin 

of human errors, resulting in 

inaccurate

 reports

 and hence revenue loss

. 

 

Inaccurate 

manual reporting

 lead

s

 

to flawed business goals, 

implying 

higher expenditure and weaker ROI

. 

 
 Time–Consuming Tasks  
Manual creation of 

r

eports

 involving healthcare data

, such as claims, billings, credentialing, and invent

ory and supply chain management

 

is 

a tedious 

process.

 

 

Manually creating reports from 

large pools of data 

leaves the workforce wi

th little time to focus on other core areas.
Data Inaccuracy  
Payers indulge in 

several

 data processing workflows, from code entry to eligibility,

 and claim management

, 

with high possibilities of data 

inaccuracies

. 

 

Erroneous 

r

eports 

could result in ineffective strategies 

for the

 payer organization. 

 
Security Concerns   
Human error is the leading cause 

of

 healthcare data breaches

. 

Creating healthcare reports

 containing sensitive data

 manually 

adds to the chances of 

such 

breach

es

. 

 

Human negligence

 

in healthcare reporting

 

could 

land payers in 

violation 

of 

security clauses in compliances such as

 HIPAA

, SOX, and GLBA.

 
Eliminate the above-outlined mistakes by automating the reporting process. Report automation, be it in enrollment, credentialing, billing, or records management, ensures that a payer organization stays ahead of the competition by providing a smooth and streamlined experience to its members, providers, and hospitals.  
 

Automated Reporting to the Rescue
It is essential to first understand the reporting requirements of the organization, like the frequency of reports, the medium of reporting, etc.   
Based on the business use cases, the payer organizations should use appropriate reporting and data visualization tools to create standard and customized reports, as and when required. Digital reporting solutions can be used to generate interactive visuals, charts, or maps if required.  
New generation tools like Tableau, Power BI, and Cognos give better control to users to fetch and visualize data in the desired format.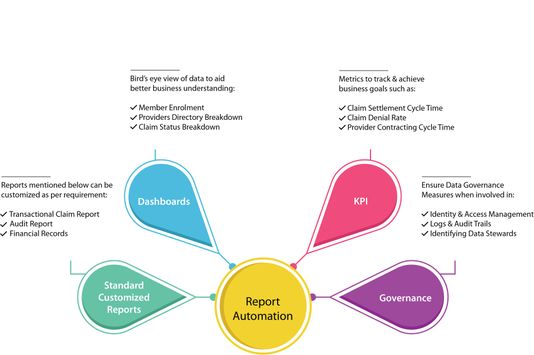 Benefits of Employing Report Automation
Automation of reports helps organizations to create a secure environment by restricting data access on a need-to-know basis. Moreover, report automation comes with a plethora of other benefits that make the user's life easy. 
Reduced Cost with Increasing Efficiency  
Automating 

claims, billing,

 inventory

,

 and supply chain management

 reports

 

cut down on the need for

 resources

,

 reducing

 the

 overhead cost

s

. 

 

Reduc

ed

 human intervention 

increase

s

 the eff

iciency of teams and allow

s

 for better business decisions

. 

 
Increased Data Quality 
With automated

 reporting

,

 the 

space for 

human 

negligence, be it in billing or claim denials, is minimal to zero.

 

Report automation carries out 

quality checks 

to 

ensure

 that

 data management is streamlined

 and

 that 

the 

data quality is high.

 
 Flexibility in Data Visualization 
With report automation tools in place, payer organizations can customize standardized reports such as traditional claim reports, audit report

s

, and financial records. 

 

Data 

v

isualization allows for 

a 

clear understanding of reports

 and helps 

users to 

identify trends quickly. 

 
 Zero Breach of Compliance 
With 

report automation tools, 

breach

 

of 

security clauses

 of regulations laid out by the US 

D

epartment of Health and Human Services

 (HHS)

 is unlikely

. 

 

Report a

utomation 

help

s in

 

adhering

 to

 security 

compliance

 requirements 

such as SOX, 

NIST, PCI DSS. 

 
Focus on Core Areas 
Report automation allow

s the

 payer to 

focus on areas that need 

human 

attention, be it reasons for rejected claims or claim fraud, and improv

e

 those areas.

 
Users 

can share selected KPIs from within these reports with external and internal stakeholders through visualized dashboards.

 
With report automation in the picture, payer organizations can focus better on human-centric tasks and process optimization. Due to individual interactions with reporting tools, auditing would also be straight forward.  
Count on Your Technology Partner
With deep experience in interactive & advanced data dashboards, automation partners can help their clients to derive actionable insights for optimum results.  
Connect with our experts at Nalashaa and accomplish your business goals efficiently by setting up report automation and a compliant analytics culture.    
Reach out to us at info@nalashaa.com.  
The following two tabs change content below.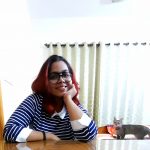 Shireen Noushad
Currently, trying to navigate through the ocean of Healthcare IT systems, processes, and workflows. Passionate about writing, and stringing together words in the simplest of ways for a better reading experience and easier comprehension.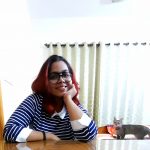 Latest posts by Shireen Noushad (see all)